In Mark Sanford race, a test of how much infidelity matters in South
Voting is under way Tuesday in Charleston, S.C., where Mark Sanford (R) hopes to prevail over Elizabeth Colbert Busch (D) for a US House seat. The Republican is usually a shoo-in, but the former governor's 'Appalachian Trail' tale of infidelity raised doubts.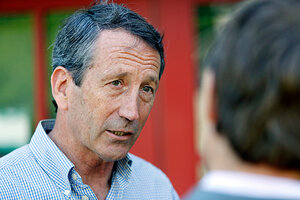 Mic Smith/AP
There's an old saying in the South: "I might shoot you, but I'll pray over you when I'm done."
Whether it reflects how conservative women voters in South Carolina feel about Mark Sanford is at the heart of a hotly contested election for a US House seat in Charleston. Mr. Sanford, the Republican nominee, is seeking electoral redemption for lying in 2009 while governor, saying he was leaving the governor's mansion to hike the Appalachian trail but instead flying to Argentina for a tryst with a mistress.
Tuesday's special election in the First Congressional District pits Sanford, a three-time congressman and two-time governor, against Democrat Elizabeth Colbert Busch, a shipping executive and sister of Comedy Central parodist Stephen Colbert. The matchup has a variety of national tendrils, not the least of which is the unusual opportunity for Democrats to gain a foothold in the deepest South, where the rarified Old South still wafts through the magnolias and one can easily imagine the echoes of the Civil War cannon booms.
"If [Democrats] were to win this, it would be like sharks smelling blood in the water," says Charm Altman, president of the South Carolina Federation of Republican Women, in Sea Island, S.C.
---