Obama in California: The good, the bad, and the $35,800 dinner plate
President Obama made his two-day, six-stop trip to California to raise money and rally his base. Along the way, he drew cheers at Facebook headquarters and hecklers in San Francisco.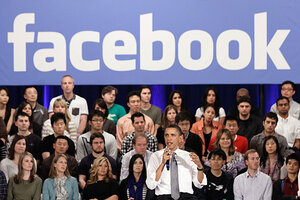 Marcio Jose Sanchez/AP
What did President Obama get from his two-day, six-stop trip to California? A little excitement, a little controversy, and a lot of money.
California is not a state in which he is likely to spend a lot of time campaigning. It is solidly Democratic, and Mr. Obama will need to spend much of his time and energy in swing states during the general election campaign.
But now is the time to shore up support and energize his base, and California is, in some ways, the perfect place to do it. "California has always been the ATM for American politics, particularly for Democrats. And right now, the state likes Obama more than the nation does," says Sherry Jeffe, a political scientist at the School of Policy, Planning, and Development at the University of Southern California. "Strategically, it's a very wise move."
Things didn't all go according to plan, though. At a fundraiser in San Francisco Thursday, some attendees started heckling him by singing a song criticizing the administration for broken campaign promises on protecting civil liberties.
Still, Obama was expected to pull in $7 million on the trip, Professor Jeffe says.
---