Why Rick Perry is downplaying his front-runner status
Polls give Rick Perry a solid lead over his Republican rivals for the presidential nomination just 2-1/2 weeks after entering the race. But a Sept. 7 debate looms as his first real test.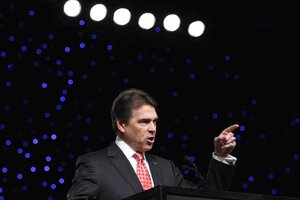 Eric Gay/AP
A wave of national polls has put Texas Gov. Rick Perry firmly in first place for the Republican presidential nomination, just 2-1/2 weeks since he entered the race.
The latest poll, from CNN/ORC, puts Governor Perry in the lead among GOP voters with 27 percent. And if former Alaska Gov. Sarah Palin and former New York Mayor Rudy Giuliani don't run, support for Perry leaps to 37 percent, followed by 18 percent for former Massachusetts Gov. (and former front-runner) Mitt Romney, 12 percent for Minnesota Rep. Michele Bachmann, and single digits or less for everyone else.
But the Perry campaign is playing it low-key. "The only poll that matters is on Election Day," Perry spokesman Mark Miner tells reporters.
So why is his campaign being so diffident about this burst of success? That's easy. It's early, and the battle has only begun.
Governor Perry will appear in his first presidential debate on Sept. 7 – his first big test before a televised national audience – with two more debates in quick succession. If he performs well, or at least competently, and passes the "does he look and act presidential" test, then his numbers could grow more solid. If he stumbles, all bets are off.
---