How Mitt Romney's new plan would change Social Security and Medicare
Mitt Romney unveiled his fiscal plan to a tea party-aligned group Friday. It would cut some federal programs, and it could mean significant changes in Social Security and Medicare.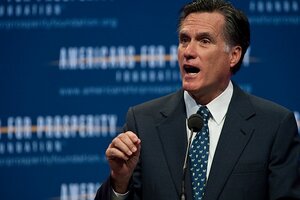 Newscom
Republican presidential candidate Mitt Romney has laid out his fiscal plan "to turn around the federal government" by axing or reducing programs – including what could be significant changes to Medicare and Social Security.
As might be expected from a relatively moderate Republican, Mr. Romney's plan is not as drastic as others, such as fellow GOP presidential candidate Rep. Ron Paul's, which would eliminate several departments of federal government, or House Budget Committee Chairman Paul Ryan's controversial plan, which Democrats say would "kill Medicare."
Still, Romney's pledge to "make government simpler, smaller, and smarter," declared Friday in a speech to the tea party-aligned group Americans for Prosperity, was embraced by Congressman Ryan. That's sure to set it up as a target for Democrats and for President Obama, as the incumbent president looks for ways to win reelection at a time when the US economy sputters and congressional Republicans reject his jobs-creating efforts.
"This is a great development," Ryan told Washington Post conservative columnist Jennifer Rubin, regarding Romney. "It shows that the elusive adult conversation is taking place.... This tracks perfectly with the House budget."
---