If Mitt Romney wins both Iowa and N.H., it may be 'game over'
If Mitt Romney wins both Iowa and New Hampshire, it would be a first for someone who isn't already president. But the Iowa caucuses have a habit of producing surprises, and there are scenarios under which Romney doesn't live up to expectations.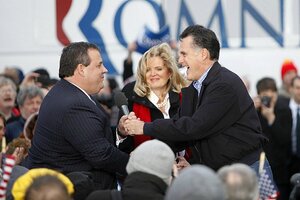 Charlie Neibergall/AP
Four days before the Iowa caucuses, it's now clear that Mitt Romney could win there and then the New Hampshire primary a week later.
The latest Iowa polls show the former Massachusetts governor neck and neck with Texas Rep. Ron Paul for the lead, with both in the low 20s among likely caucusgoers. In New Hampshire, polls show an average 20-point lead for Mr. Romney over his nearest competitor, Congressman Paul.
If Romney wins both, that would be unprecedented for someone who isn't already president.
Since the GOP Iowa caucuses began to matter in 1980, Iowa and New Hampshire have had a history of going in different directions. And if Romney wins both by comfortable margins, then for all intents and purposes, it's game over.
Romney will have a lock on the Republican nomination, as the only candidate with momentum, big money, a national organization, and substantial room for growth in his numbers. (Iowa provides a clue on that last point: 50 percent of likely GOP caucusgoers view Romney as "acceptable" for the nomination, versus only 35 percent who see Paul that way, according to the new NBC-Marist poll.)
"If he wins both, the image that it's over will be hard to shake," says Cal Jillson, a political scientist at Southern Methodist University in Dallas. The media will be full of stories about how no one who is not already president has ever pulled off the one-two punch.
---