Which GOP rivals would vote for Ron Paul if he's GOP nominee?
Rick Santorum, Newt Gingrich, and Mitt Romney are on the record about how they would vote. Other Republican candidates have sidestepped the matter, saying Ron Paul won't be the GOP nominee.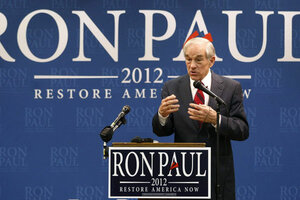 Jeff Haynes/Reuters
With libertarian-leaning Ron Paul riding high in polls of Republican voters in Iowa, a simple question has become a hot one in recent days for his rivals in the presidential race: If the Texas congressman were to win the Republican nomination, would they vote for him?
So far Mitt Romney and Rick Santorum have said yes.
Newt Gingrich has said no.
And all six of Representative Paul's rivals have strongly criticized his views, notably on foreign policy.
On Wednesday, former Massachusetts Governor Romney, the other candidate at the top of polling in Iowa, weighed in with a yes.
"I've already crossed that river, if you will, by saying [in Republican debates] ... that all of the people on stage would be superior to the president we have," Romney told CNN interviewer Wolf Blitzer. "So yes, I would vote for him."
On Friday, however, Mr. Romney sounded decidedly less enthusiastic, while stopping short of reversing his position. "I don't think Ron Paul represents the mainstream," he said. "I'm working harder than anyone to make sure he's not the nominee."
Romney's use of "mainstream" echoed another GOP candidate, former House Speaker Gingrich, who gave a flat "no" when asked if he could vote for Paul.
---