Can Mitt Romney stop Newt-mentum in South Carolina?
With polls showing that Newt Gingrich might be making up ground in South Carolina, Mitt Romney launched an three-pronged assault Wednesday that painted Gingrich as unreliable.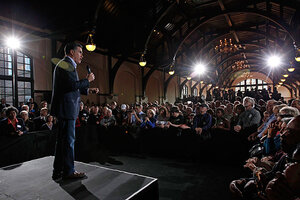 Jim Young/REUTERS
Mitt Romney is going in for the kill.
Amid signs that Newt Gingrich has momentum heading into Saturday's primary in South Carolina, Mr. Romney unloaded on the former House speaker Wednesday. He released two web ads critical of Mr. Gingrich, put two surrogates on a conference call with the press focused on his "record as an unreliable leader," and ridiculed Gingrich himself for claiming to have helped create millions of jobs as a relatively new member of Congress.
Romney, the former governor of Massachusetts, leads in polls of South Carolina Republicans, but Gingrich has been closing the gap. In two out of three major polls released Wednesday, Gingrich polled within the margin of error. Romney's stumbles in Monday night's debate, combined with Gingrich's strong performance, have given the former speaker hope that he can stage a comeback.
Gingrich's biggest challenge with South Carolina Republicans is that he splits the conservative vote with other candidates, particularly religious conservative favorite Rick Santorum.
Enter Team Romney. In the first web ad, called "Undisciplined," former Rep. Susan Molinari (R) of New York had nothing kind to say about her former colleague.
"The last time Newt Gingrich was the head of the Republican Party as speaker, he became so controversial, he helped reelect a Democratic president," said Ms. Molinari, describing Gingrich's style as "leadership by chaos."
---