Florida GOP debate: Romney assails Gingrich record at House, Freddie Mac (+video)
Mitt Romney landed plenty of blows to Newt Gingrich's record during Monday's GOP debate in Tampa, Fla. Gingrich has described his role at Freddie Mac as 'strategic adviser;' Romney calls it 'influence-peddling.'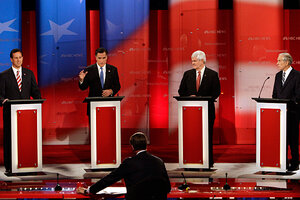 Paul Sancya/AP
Mitt Romney came ready to rumble.
In a bid to retake the lead for the Republican presidential nomination, Mr. Romney went after Newt Gingrich Monday night for his controversial tenure as speaker of the House, lucrative consulting for mortgage giant Freddie Mac, and other work Romney derided as "influence-peddling."
Mr. Gingrich fought back, but without the verve that fueled his decisive victory over Romney in last Saturday's South Carolina primary. The GOP debate in Tampa, the first of two before Florida's Jan. 31 primary, was generally a subdued affair, without the raucous audience reactions of previous faceoffs. But Romney landed plenty of blows.
"I learned something from that last contest in South Carolina, and that was I had incoming from all directions, was overwhelmed with a lot of the attacks," said Romney, the former governor of Massachusetts. "And I'm not going to sit back and get attacked day in and day out without returning fire."
---