In State of the Union address, Obama tries out for hero of middle class (+video)
In his State of the Union address Tuesday night, President Obama put a name and a face to his 'defining issue' of economic fairness. She's Debbie Bosanek, billionaire Warren Buffett's secretary.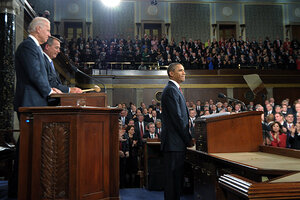 Saul Loeb/Reuters
After the president himself, the most important person in the House chamber Tuesday night for President Obama's State of the Union address may have been a middle-aged woman from Bellevue, Neb., named Debbie Bosanek.
She is Warren Buffett's secretary, and she pays a higher income-tax rate than her billionaire boss. The president has been talking about her for months. But now there's a name and a face attached to what Mr. Obama calls "the defining issue of our time" – restoring fairness to the American economy.
"We can either settle for a country where a shrinking number of people do really well, while a growing number of Americans barely get by," Obama said to the joint session of Congress. "Or we can restore an economy where everyone gets a fair shot, everyone does their fair share, and everyone plays by the same set of rules."
The president pitched the issue of fairness in terms of "American values," not Democratic or Republican. But in what was essentially his opening bid for reelection, Obama went long on populism, not bipartisanship. For the first time, he got specific about his proposal for a "Buffett Rule" as part of a broader tax reform: a requirement that anyone making more than $1 million a year pay no less than 30 percent in taxes. And, he added, anyone making less than $250,000 a year – the case for 98 percent of American families – should not see a tax increase.
"Now, you can call this class warfare all you want," Obama said, anticipating the Republican rebuttal. "But asking a billionaire to pay at least as much as his secretary in taxes? Most Americans would call that common sense."
---