Why Mitt Romney is beating up on Rick Santorum
Mitt Romney and his allies are attacking Rick Santorum on the eve of three primary contests that are expected to be low-turnout – a situation that could play to Santorum's strength.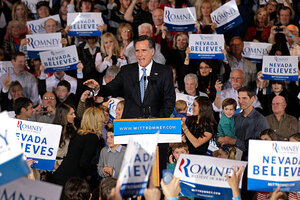 Julie Jacobson/AP
A funny thing is happening on the way to Mitt Romney's (presumed) coronation as the Republican nominee: He's punching down at the (presumably) lowly Rick Santorum.
On Monday, Romney surrogate Tim Pawlenty had a conference call just to bash Mr. Santorum, a former senator from Pennsylvania.
"He clearly has been part of the big-spending establishment in Congress and in the influence-peddling industry that surrounded Congress," said former Minnesota Governor Pawlenty, a one-time competitor for the GOP nomination.
Team Romney also dug into the archives and pulled out some nifty Santorum quotes praising Romney in 2008, back when he was running for the GOP nomination as the conservative alternative to John McCain.
So why go after Santorum now?
After all, Mr. Romney seems comfortably on his way to the Republican nomination. He's won three out of five contests, including the last two – Nevada and Florida – by big margins. He's ahead in the delegate count. And he's the only Republican candidate with the war chest and organization to compete effectively on Super Tuesday, the 10 contests of March 6.
The answer, it appears, is that Romney isn't taking any chances.
There are three "beauty contests" on Tuesday – the nonbinding Minnesota and Colorado caucuses, and a nonbinding primary in Missouri. Recent surveys by the Democratic-leaning Public Policy Polling in all three states show Romney strong in Colorado, but Minnesota and Missouri are a muddle. Newt Gingrich didn't qualify for the ballot in Missouri, which makes that a three-way race among Romney, Santorum, and Ron Paul.
---