Why Obama's flip-flop on super PACs won't matter
Barack Obama abandoned a campaign finance promise in 2008 and still won the presidential election. That suggests that his new embrace of super PACs might not be too damaging.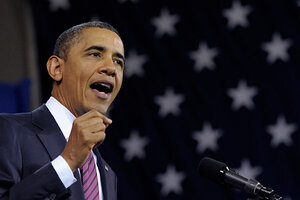 Susan Walsh/AP
President Obama's flip-flop toward embrace of the "super PAC" formed to support his reelection campaign should come as no surprise.
Yes, Mr. Obama railed against the Supreme Court decision that allowed outside groups to support campaigns with unlimited donations, visibly offending some justices over the matter at his 2010 State of the Union address. More recently, he has called them a "threat to democracy."
But the super PAC that supports Obama's reelection, Priorities USA Action, was getting clobbered. It raised just $4.4 million last year. The conservative American Crossroads, the super PAC founded by former George W. Bush political guru Karl Rove, raked in $51 million. The biggest super PAC supporting Mitt Romney, Restore Our Future, brought in more than $30 million.
All told, experts predict the Republican super PACs will collect a half billion dollars for the 2012 election. And Team Obama wasn't about to "unilaterally disarm," as campaign manager Jim Messina put it in an e-mail late Monday to supporters.
---