In Ohio suburbs, a reluctant vote of confidence for Mitt Romney
The Ohio primary Tuesday could be a bellwether for the rest of the Republican primary campaign. If so, it gives a glimpse of who is supporting Mitt Romney – and why they're not excited.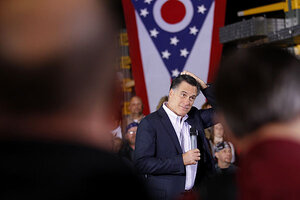 Gerald Herbert/AP
In this quintessential American community, where church steeples and white picket fences neatly line the landscape, many Republicans say they're not choosing a presidential nominee based on candidates' convictions or policy proposals. Instead, they say, they'll vote for the candidate they feel is best suited to accomplish one task in November: topple President Obama.
"Yeah, I voted for [Mitt] Romney," sighs Roberta, a receptionist who gave only her first name. The decision tormented her for months, and she remained undecided even when entering the voting booth at the local high school Tuesday. "My heart is really with [Rick] Santorum, but I really don't think he can win [against Obama]. It's a shame."
The Ohio primary Tuesday is seen as a key bellwether in the race for the Republican presidential nomination, not so much because of its 66 delegates, but because Ohio is a microcosm for the rest of the country. What happens here could be predictive of how the race will play out going forward.
"Every part of the national economy is found here in some significant way: agriculture to industry to low tech to high tech, from rural to industrial to urban – it's all here," says James Brock, an economist at Miami University's Farmer School of Business in Oxford, Ohio.
Generally speaking, the northern half of the state swings for Democrats, while southern half leans Republican. But even within those broad strokes are other subdivisions that could determine how Tuesday's primary plays out.
---