Romney vs. Santorum: Why it's not a replay of Obama vs. Clinton
GOP leaders hoped a long primary season would engage voters and help build organization, just as it had for Barack Obama in 2008. They didn't count on how toxic the 2012 race would turn.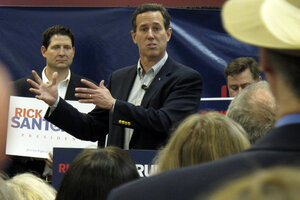 John Hanna/AP
When the Republican National Committee took steps to prolong the party's presidential nomination race, party leaders hoped that more states than the usual handful would play a role in selecting the nominee. That worked.
More states involved means more voters engaged, more volunteers identified, more organization built. Certainly, that model helped Barack Obama organize his general election campaign and win the presidency, they reasoned.
What the Republicans weren't counting on was how nasty their race would turn, driving down the public's view of their top candidates.
The latest Pew Research Center poll shows Republican front-runner Mitt Romney at just 29 percent favorability among all adult Americans and Rick Santorum, his top challenger, at 27 percent. At this point four years ago, when Mr. Obama and Hillary Rodham Clinton were duking it out for the Democratic nomination, Obama's favorability was 56 percent, Mrs. Clinton was at 50 percent, and presumptive GOP nominee John McCain was at 45 percent.
Today, even among Republicans, Mr. Romney is viewed favorably by only 58 percent and Mr. Santorum by only 53 percent. In March 2008, both Obama and Clinton scored in the 70s among Democrats.
---