Is Obama the 'first gay president' as Newsweek proclaims?
Newsweek magazine's latest cover proclaims Barack Obama the 'first gay president'. He'd rather focus on the economy than his controversial new support for same-sex marriage. But that's a tough issue for him, as recent polls show.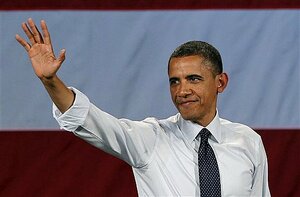 Elaine Thompson/AP
Like Mitt Romney, President Obama no doubt wishes the same-sex marriage question would fade into the background so that issues more important to most Americans – say, the economy – could become the focus of campaign 2012.
That's unlikely to happen this coming week.
The cover of Newsweek magazine portrays Obama with a rainbow halo and proclaims that he's the "first gay president." The New Yorker cover picks up on the rainbow theme – shown as multi-hued White House columns – in what it's calling its "Spectrum of Light" cover. Both magazines hit newsstands Monday.
It may be true, as Rep. Barney Frank (D) of Massachusetts – the first openly-gay member of Congress – says, that Obama's coming out on behalf of same-sex marriage this past week won't make much difference in November's election.
"If you were going to cast your vote based on a candidate's position regarding same-sex marriage, you were already going to vote for Obama [or] Romney based on that," Rep. Frank said on ABC's "This Week" Sunday. "I literally don't think anybody's vote was changed by this one way or the other."
Still, Obama's end to "evolving" on gay marriage – though it may generate enthusiasm among his liberal base, including gay activist fund-raisers – will continue to generate critical comment, including from some commentators on the left.
---