Romney has big lead over Obama among military veterans
A new Gallup poll shows Mitt Romney leading President Obama by 24 points among military veterans, essentially accounting for Obama's 'gender gap' among men. But as the number of vets declines, the GOP's advantage here may dwindle.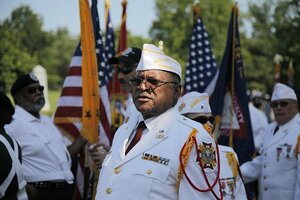 Charles Dharapak/AP
On this Memorial Day weekend, Mitt Romney apparently is getting a big boost from US military veterans.
Mr. Romney, the presumptive Republican presidential nominee, has a big lead over incumbent Barack Obama among vets – 58 percent to 34 percent, according to a new Gallup survey. In essence, they're the reason President Obama faces any "gender gap" among men. Among nonveteran men, Gallup finds, Obama has a four-point edge, and they're essentially tied (46 percent to 46 percent) among all registered voters.
It's an important group. Veterans make up 13 percent of the electorate (24 percent of all adult men). And although a dwindling percentage of Americans have served in the armed forces since the end of the draft in 1973, they're an important part of the GOP's base. In 2008, Sen. John McCain beat Obama among veterans by 54 percent to 44 percent.
---