Can Hispanics see themselves as 'Junto con Romney' – Together with Romney?
Presumptive GOP presidential nominee Mitt Romney bashed his way to victory in the Republican primaries with a 'get tough' message on illegal immigration. Romney is now seeking to build bridges to an uneasy Hispanic constituency.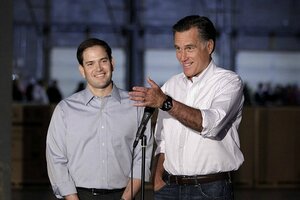 Jae C. Hong/AP
Prepping for what some see as a potential game-changer speech in front of a Hispanic audience later this month, presumptive GOP presidential nominee Mitt Romney has begun an effort to recalibrate his fiery anti-illegal immigration rhetoric to dig into the 2-1 advantage President Obama has among the 50 million-strong US Latino community.
After calling some of his rivals soft on immigration during the Republican primaries, and even suggesting that illegal immigrants should "self-deport," Mr. Romney has recently hired a Hispanic outreach coordinator and is contemplating proposing an immigration reform package that could include a new class of visas for students. He even has a new Spanish slogan: "Junto con Romney," or "Together with Romney."
Contrasted with a slew of other Republican initiatives that seem to demonize Hispanics – purging voter rolls in Florida, inspecting residency papers at schools in Alabama, raising the stakes for picking up day workers in a pickup truck in Georgia – Romney's gambit to cut into Obama's advantage seems, at first glance, a Sisyphean task.
Obama would trounce Romney, Perry among Latino voters, survey finds
---