Why did Rand Paul forsake his dad Ron Paul for Mitt Romney?
Sen. Ran Paul endorsed Mitt Romney for president this week, even though his father Ron Paul has not formally dropped out of the race. Publicly backing Romney at this point – though it's left many libertarians steaming – could help him in the long run.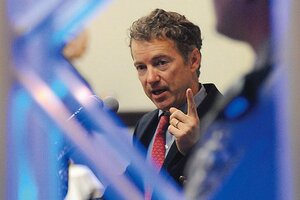 John Wright/The Paducah Sun/AP
Why did Rand Paul forsake his dad Ron Paul for Mitt Romney?
Well, perhaps "forsake" is too strong a word. We're not talking about political patricide here, nothing remotely Oedipal. They're both still on the libertarian fringe of the Republican Party, like-minded on the issues their brand of conservatism cares about.
But Rand Paul, the freshman US Senator from Kentucky, did endorse presumptive GOP presidential nominee Romney over his father, the US Congressman (and party gadfly) from Texas. And it's caused quite a stir within the Libertarian Party, which laments the younger Paul's "betrayal" of his father's principles.
"No true libertarian, no true friend of liberty, and no true blue Tea Partier could possibly even consider, much less actually endorse or approve of, the Father of Obamacare, Big Government tax and spender, Republican Mitt Romney," the Libertarian Party exclaimed on its website Friday.
---