Mitt Romney sits for an interview, and not just on Fox News
Mitt Romney sat down for an interview on 'Face the Nation,' fielding hard balls not typically thrown at him on Fox News. Meanwhile, Obama strategist David Plouffe darted among four other Sunday talk shows, zinging Romney and defending Obama's controversial moves.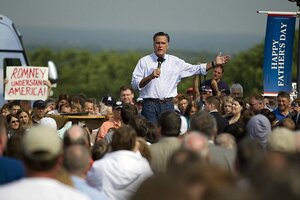 Evan Vucci/AP
Mitt Romney threw off his media security blanket Sunday. That is, he sat down for a substantial TV interview that was not hosted by the friendly folks at Fox News.
Appearing on CBS's "Face the Nation," he faced veteran newsman Bob Schieffer, who peppered him with questions about the economy, immigration, Europe's financial crisis, and other issues.
It wasn't exactly the Spanish Inquisition (no verbal water-boarding), nor was it anything like a proper press conference where reporters could tag-team him.
Know your US presidents? See if D.C. Decoder can stump you!
But there were follow-up questions. Three times, for example, Mr. Romney ducked answering whether he'd repeal President Obama's order regarding the children of illegal immigrants brought to this country.
That's a tough one for Romney, who's feeling pressure from some prominent Republicans (Jeb Bush, Marco Rubio, and Haley Barbour, among them) to back away from the very tough line he took on immigration during the GOP primary debates.
---