Can Romney ride out the storm over his unreleased tax returns?
Romney can't release any more tax returns now without looking weak, but in the long run, political strategists say, he can't resist the pressure to follow tradition. Perhaps a quiet Friday in August.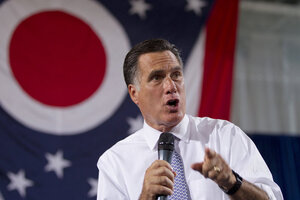 Evan Vucci/AP
Mitt Romney will not release any more tax returns, he has said emphatically.
And even if Mr. Romney had been inclined to follow the advice of some prominent fellow Republicans and release a few more recent returns, he really can't, at least right now. If he did, he would look as if he had caved to pressure. No presidential candidate wants to look weak.
So can the uber-wealthy Romney ride out the storm over his unreleased returns and not look as if he's hiding something? Probably not, say political strategists. Though he is not required by law to share his tax returns, he is by tradition – all the more because it was his father, George Romney, who pioneered the practice during his own presidential campaign in 1968.
Some Republican strategists agree.
"I do think sometime in August, on a Friday before the convention, Romney will likely have a tax dump of some kind," says a former staffer on John McCain's 2008 presidential campaign. The GOP convention begins Aug. 27.
The aide believes that if there had been something alarming in any of the 23 tax returns Romney handed over to Senator McCain four years ago when he was being vetted as a possible running mate, he would have heard about it. There wasn't.
---