What Mitt Romney needs to achieve at GOP national convention
Mitt Romney needs to keep the focus on the travails of the US economy under Obama, and to humanize himself by telling his personal story, Republican analysts said during the Sunday talk shows, in advance of this week's GOP national convention.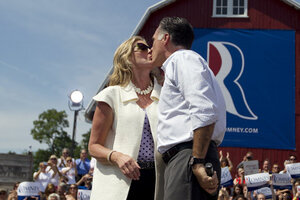 Evan Vucci/AP
Mitt Romney's task at the Republican National Convention this week will be to keep the focus on the struggles of the US economy under President Obama and to tell an appealing personal story about his life and accomplishments, according to conservative politicos and commentators speaking during appearances on the Sunday talk shows.
Mr. Romney will also strive, they said, to steer the conversation clear of political land mines such as the recent "legitimate rape" comment by Rep. Todd Akin (R) of Missouri.
Romney will show he's "a good, decent man who gave away his father's inheritance, and everything he did, he did to success," said Republican National Committee Chairman Reince Priebus on CBS's "Face the Nation." "I think both Republican and Democratic parents are wishing for their kids' success and the American dream and not the glass-half-empty America that President Obama is trying to sell this country."
Recent polling data show the vast distance Romney needs to make up against Mr. Obama in terms of connecting with voters.
---