What does it take to be a gay Republican? For one thing, a long view
They're a minority at the Republican Convention – particularly on issues like same-sex marriage. But gay delegates and activists support the Romney-Ryan ticket on other issues, and they see signs that they're changing their party from within.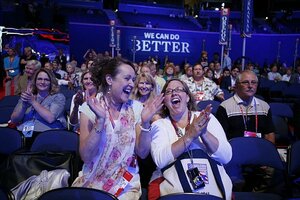 Jae C. Hong/AP
For gay Republicans – a distinct minority whose numbers and visibility are nonetheless growing steadily – their party's position on issues personally close to home has not prevented them from supporting the Romney-Ryan ticket.
For now, it seems, the definition of marriage held to by Mitt Romney and Paul Ryan and chiseled into the GOP platform – one man and one woman – takes a back seat to economic recovery and job creation.
"I'm very happy to support Mitt Romney so we can get the country back on the path to prosperity," says Michael Carr, a young (32), gay businessman who's running for the state senate in Colorado. "We care about social issues too, but we have to prioritize."
RECOMMENDED: Gay marriage laws around the globe
Although the party platform – reflecting the political clout of religious conservatives who dominate the party on most social issues – calls for a constitutional amendment effectively outlawing same-sex marriage (and even rejected a motion to approve civil unions), gay political leaders say they feel very much at home here.
"We've been extremely welcome," says R. Clarke Cooper, executive director of Log Cabin Republicans, the national group that actively lobbies for gay rights and like-minded candidates. "The Republican National Committee, the delegates, the staff have all gone out of their way to make us welcome."
Mr. Cooper is typical of what many see as a new generation of conservatives who happen to be gay: Young (40), an Iraq War combat veteran (Army captain and intelligence officer), who says, "We really need to have the party focus on its core – individual liberties, the size of government, tax reform, and national security."
At the same time, he and others in Tampa see a party that's shifting on social issues – especially those including individual liberties related to sexual orientation.
Of the 17 House races his organization worked on in 2010, says Cooper, 12 went for the candidate considered friendly to the cause.
He points out that it was a Republican lawmaker in the US Senate – Susan Collins of Maine – who championed repeal of the military's "don't ask, don't tell" policy banning openly-gay service members. Another Republican, Rep. Ileana Ros-Lehtinen of Florida, is a lead sponsor of a bill to repeal the Defense of Marriage Act (DOMA), which defines marriage as the legal union of one man and one woman.
---