Republican convention looks like a tea party gathering
Most tea party Republicans have come to accept Mitt Romney as one of their own. But it's really Paul Ryan that they're enthusiastic about, and many of their champions are key speakers.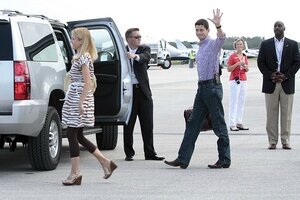 Mary Altaffer/AP
The tea party movement, which exploded on the political scene not long after Barack Obama's inauguration as president and was a huge force in changing the face of the US Congress two years later, is a strong presence at the Republican convention.
Tea party values are reflected in the party platform, and tea party favorites are included among the major speakers – including New Jersey Gov. Chris Christie, slated to give the keynote address Tuesday night; Ted Cruz, favored to win the US Senate race in Texas; and Sen. Rand Paul, a founding member of the Tea Party Caucus in Congress. Others include US Sen. Marco Rubio, Wisconsin Gov. Scott Walker, and South Carolina Gov. Nikki Haley.
US Senate candidate and rancher Deb Fischer from Nebraska, a state senator who calls herself a "citizen-legislator," got her three minutes in the spotlight Tuesday when she was one of the early afternoon speakers, one of several lesser-known tea party favorites sprinkled throughout the three-day convention's program.
---