Bruce Springsteen rocks out for Barack Obama
Rock star Bruce Springsteen will perform at an Obama campaign rally with Bill Clinton in Ohio next week. The race has tightened considerably in that important swing state, and Springsteen's appearance is designed to bolster Obama's image as a fighter for working class men and women.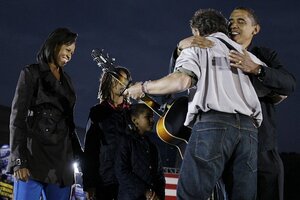 Alex Brandon/AP
Rocker Bruce Springsteen may be Republican New Jersey Gov. (and Mitt Romney campaign surrogate) Chris Christie's musical idol. Gov. Christie claims to have been to 130 of "The Boss's" concerts going back to the 70s.
But the feeling between the two New Jersey notables is not mutual, and next week in Parma, Ohio, Mr. Springsteen will be rocking out for Barack Obama. Ohio, of course, is a key battleground state; no Republican has ever won the presidency without taking Ohio.
The Obama/Biden team has been emphasizing its fight for the working middle class, and that's certainly been Springsteen's philosophical and political soul ground over the decades.
His work for progressive causes and Democratic candidates goes back to 1972 when he did a benefit for George McGovern. In 2009, he and folk icon/rabble rouser Pete Seeger performed Woody Guthrie's classic "This Land is Your Land" at Barack Obama's inaugural celebration at the Lincoln Memorial.
Obama campaign officials are delighted.
---