Friend, foe, or faux? Six take-aways from the final presidential debate.
The third, and last, presidential debate Monday night offered some notable exchanges between President Obama and Mitt Romney – some unscripted and some clearly rehearsed.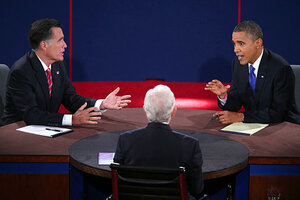 Pool-Win McNamee/AP
Monday night's presidential debate has been widely judged a win for President Obama, but not exactly a loss for his challenger, Mitt Romney.
Mr. Obama carried the night, according to snap polls, because of his command of facts and use of his presidential experience. But whereas Obama "lost" the first debate last month for coming across as subdued, Governor Romney is seen as having held his own Monday by consciously adopting a subdued stance.
Clearly the Romney camp decided the electorate does not want a shrill, in-your-face-president.
Still the debate offered some notable moments – some unscripted, others clearly canned and rehearsed – that offer something to chew on as we move into the final two weeks of the campaign. Here are six:
Did Romney mix up 'foes' Iran and Russia?
Romney displayed a presidential understanding of issues ranging from Al Qaeda in northern Mali to Iran's strategic interests in the Middle East. But he got something wrong on Iran, namely its geography.
"Syria's is Iran's only ally in the Arab world. It's their route to the sea," he said.
Regional analysts often underscore Russia's interest in maintaining its ties to Syria in part for the access it offers to the Mediterranean Sea – but Iran? Actually Iran has more than 1,500 miles of coastline on the Persian Gulf and Arabian Sea. And it can access the Mediterranean through the Suez Canal.
Another Big Bird moment?
While the third presidential debate was officially devoted to foreign policy issues, both Obama and Romney frequently circled back to domestic concerns, making the case that the US economy and education are important components of America's current and future standing on the world stage.
When Romney declared, "I love teachers," it sounded perilously close to the Republican candidate's quip in the first debate that, despite his affection for Big Bird, as president he would cut federal subsidies to public television, Big Bird's home.
---