AP calls Alaska Senate race for Lisa Murkowski - Joe Miller disagrees
After laborious vote counting, Alaska Sen. Lisa Murkowski appears to have won her write-in campaign against tea party favorite Joe Miller. But Miller is challenging the vote count in court.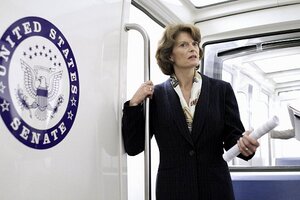 Harry Hamburg/AP
Sen. Lisa Murkowski of Alaska seems certain to have won her historic write-in bid for reelection, defeating fellow Republican and tea party favorite Joe Miller as well as notching a personal victory against her long-time rival Sarah Palin.
According to the Associated Press, Senator Murkowski's win became clear when election officials announced that they had only about 700 votes left to count – fewer than the more than 2,000 votes she was leading by at that point in a drawn-out examination of hand-written ballots.
Wednesday afternoon, Murkowski was flying back to Alaska from Washington, promising an "exciting announcement" about a revitalized campaign that "made history."
Still, Mr. Miller has yet to concede. In one of several lawsuits, he insists that Murkowski's name had to be perfectly spelled on the write-in ballots – not just close enough so that voters' intentions were clear, which is how election officials were tallying ballots. His campaign also has suggested the possibility of voter fraud in Alaska's computerized voting system, and a campaign spokesman told the Anchorage Daily News it would press for a hand recount of all ballots cast.
---