Without Ben Nelson, can Democrats keep control of Senate in 2012?
The decision by Sen. Ben Nelson (D) of Nebraska not to run for reelection in 2012 is a 'blow' to Democrats' efforts to retain their Senate majority, analysts say.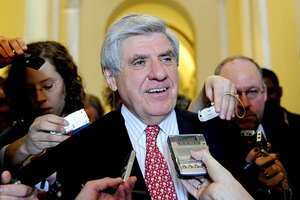 Susan Walsh/AP/File
With the retirement of Sen. Ben Nelson (D) of Nebraska, announced Tuesday, Democrats have yet another open seat to defend in a 2012 election year that could flip control of the Senate to Republicans.
Democrats are defending 23 seats in the 2012 campaign cycle, compared with 10 for Republicans. With Democrats holding a 53-to-47 majority, Republicans need to pick up four seats to wrest control from them. If President Obama fails to win a second term, that threshold falls to three seats, because the vice president breaks tie votes.
"Given that the [Senate] majority is at stake, it's a blow," says Jennifer Duffy, senior editor of the Cook Political Report in Washington, of Senator Nelson's decision not to seek reelection next year.
"Nelson was going to face a very tough race, but you couldn't write him off," she adds. "He's won difficult races before. There's not an obvious candidate of his stature with the ability to raise money to replace him."
The two-term Nebraskan has been the Senate's most reliable centrist, at a time when the ranks of moderates in Congress have been diminished almost to the point of extinction.
"Simply put: It is time to move on," Nelson said in a video statement to Nebraskans on his Senate website. "I encourage those who will follow in my footsteps to look for common ground and to work together in bipartisan ways to do what's best for the country, not just one political party."
---