Tea party set to topple Sen. Richard Lugar. Could he try third-party run?
Centrist Sen. Richard Lugar (R) of Indiana has been in office since 1977. Tea party-challenger Richard Mourdock has attacked him from the right and looks set to win Tuesday's GOP primary.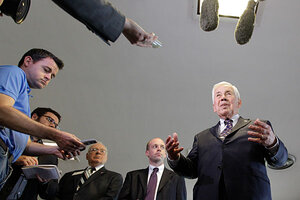 Darron Cummings/AP
Indiana voters appear close to dealing long-time Sen. Richard Lugar (R) a major setback in Tuesday's Republican primary. His tea party-backed challenger, who says Senator Lugar isn't conservative enough and is out of touch with his home state, holds a sizeable lead, according to polls.
If dealt a primary loss, could Lugar mount a viable third-party run as an independent?
Sen. Joe Lieberman (I) of Connecticut, ejected in the 2006 Democratic primary, retained his seat by running under a new party flag, "Connecticut for Lieberman." Sen. Lisa Murkowski (R) of Alaska, after losing a primary in 2010, held her seat by winning as a write-in candidate.
Like them, Lugar has plenty of name recognition and a reserve of goodwill among voters in his home state. But several political analysts say they expect the Republican primary to determine the fate of Lugar's six-term Senate career, suggesting he's unlikely to run as a third-party candidate.
"I would be very surprised if he would do that," says Gary Crawley, a political scientist at Ball State University in Muncie, Ind.
Lugar's challenges would be fundraising and the probability that he would hurt his own party in the process. The effort might divide the state's Republican vote, opening the door to Democrats gaining a new seat in the Senate. In the process, some political analysts say that dividing Republican ranks could even allow President Obama to carry the state, which would aid the president's reelection chances considerably.
---