Tea party drools over Ted Cruz, but can he survive Texas primary?
Ted Cruz is running for the US Senate seat being vacated by Kay Bailey Huchinson, and in many ways he's the ideal tea party candidate. But his best hope Tuesday is to force a runoff.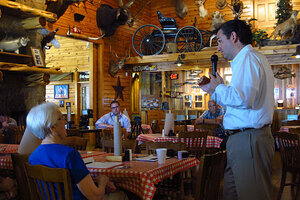 Will Weissert/AP
For Ted Cruz, the Texas Republican Senate primary Tuesday is all about survival.
Mr. Cruz, the former Texas solicitor general and a tea party favorite, is vying to succeed Republican Kay Bailey Hutchison.
To get there, he and Dallas Mayor Tom Leppert have to hold the front-runner and establishment favorite, Lt. Gov. David Dewhurst, under 50 percent of the vote Tuesday. That would force a runoff between the two top vote getters in two months time.
With polls showing Mr. Dewhurst hovering right under the 50 percent mark and with Cruz well ahead of Mr. Leppert for second place, the election could go a long way toward determining whether Cruz is remembered as a tumbleweed before the steel train of the Texas GOP establishment or, perhaps, the next tea party candidate to successfully hog-tie a seemingly unbeatable front-runner.
Cruz has an uphill battle even after Tuesday. According to a Public Policy Polling survey released last week, Dewhurst would merit 59 percent support versus 35 percent for Cruz in a mano-a-mano runoff.
But there are markers that Cruz could overcome even that steep polling cliff given his conservative bona fides and legion of tea party backers. If he is successful, he could be part of the wave of deeply conservative and uncompromising members of the House and Senate storming Capitol Hill.
The runoff
---