Scott Brown to Elizabeth Warren: Pony up for state's 'welfare voter' drive
Sen. Scott Brown (R) said Friday that rival Elizabeth Warren should reimburse Massachusetts for the cost of mailing voter-registration forms to welfare recipients – a move he says was calculated to help her campaign.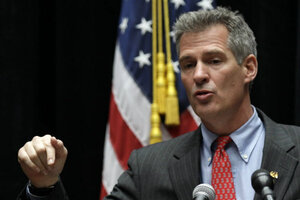 Charles Krupa/AP/File
Sen. Scott Brown confronted his Senate-race opponent Friday in a voter-registration controversy, calling on rival Elizabeth Warren to reimburse the state of Massachusetts for a mailing that promises to bring more welfare recipients into the voting booth this fall.
Senator Brown charges that, by mailing voter registration forms to people on public assistance, the state is using taxpayer money for partisan purposes – with the aim of helping Ms. Warren win their close-fought race. The state recently agreed to mail the forms in response to a lawsuit backed by liberal groups, who say Massachusetts has done a poor job complying with a 1993 federal law requiring that people be able to register when they take actions like renewing a driver's license or signing up for welfare.
"It's been disturbing for a lot of people to learn that the state's welfare department undertook an unprecedented voter registration drive," said Brown, a Republican, in a statement released Friday. "It is clear that this was done to aid Elizabeth Warren's Senate campaign."
Citing Warren's $13 million campaign account, he said his Democratic opponent should "should immediately reimburse the state for the cost of this mailing and stop playing politics with the taxpayers' money."
Brown's call for that action is unusual, since Warren herself is not a party in the lawsuit. Brown said the state was acting "at the behest of Elizabeth Warren's daughter and the organization she represents," a reference to Demos, a key group behind the lawsuit. Brown did not provide evidence that Warren's daughter, Amelia Warren Tyagi, played a role in bringing the lawsuit.
However, Ms. Tyagi chairs the board of trustees of Demos, which represented plaintiffs in the suit. Demos President Miles Rapoport said this week that Tyagi didn't "encourage any work in order to benefit her mother's campaign."
In throwing down a verbal gauntlet to Warren, Brown is also taking the state's political establishment to task. Few states are so dominated by Democrats as Massachusetts, where both the governor and legislature are controlled by Warren's party.
---