Election 2012 results: Women to reach landmark – 20 percent of senators
The female newcomers to the Senate include four Democrats and one Republican. While the economy was a top voter issue, other issues important to women such as abortion also factored in.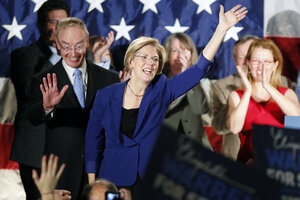 Michael Dwyer/AP
Come January, a historic number of women senators will be taking up the pressing issues on Capitol Hill.
That number will be 20, following the concession of Rep. Rick Berg (R) to Democrat Heidi Heitkamp in the North Dakota race Wednesday afternoon.
Women holding 20 percent of Senate seats is "an important symbolic number," says Jennifer Lawless, director of the Women & Politics Institute at American University in Washington. "But we have to realize that ... overall, our political institutions are still overwhelmingly male-dominated."
In 2010, Congress saw its first net loss of women since 1978, but now it's back on track to making at least incremental gains in women's representation, she notes.
In addition to Ms. Heitkamp, the female newcomers to the Senate include three other Democrats – Elizabeth Warren of Massachusetts, Tammy Baldwin of Wisconsin, and Mazie Hirono of Hawaii (whose opponent was also a woman) – and one Republican, Deb Fischer of Nebraska.
---