Sen. Jay Rockefeller to retire. Can Republicans seize opportunity?
Early polls showed five-term Democrat Jay Rockefeller trailing GOP Rep. Shelley Moore Capito. While his withdrawal opens the door to a Republican gain, Capito could be vulnerable on the right.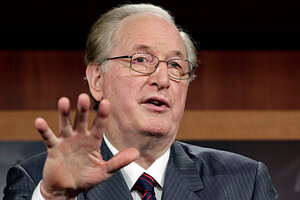 J. Scott Applewhite/AP/File
Sen. Jay Rockefeller (D) of West Virginia announced Friday he would retire instead of running for a sixth term in 2014, removing a formidable obstacle to any GOP attempt to retake the Senate but raising the possibility of an explosive Republican primary battle.
Senator Rockefeller announced his intention in a mid-morning news conference to step down from representing a state that has something of a split identity: deeply Republican in presidential politics but with no problem electing Democrats to the Senate (Rockefeller and the legendary Democratic Sen. Robert Bird were the state's long-time duo) or the House, where in 2010 Republicans claimed two of the state's three House seats for the first time since 1980.
Rockefeller, who counts the expansion of health benefits for coal miners and the expansion of health programs for children among his key legislative accomplishments, would have faced an arduous campaign had he stayed in the race. Early polls showed him trailing Rep. Shelley Moore Capito (R) of West Virginia, the only announced GOP candidate, and the insider thinking in Washington held that the senator's more outspoken stance against some coal interests in the last year signaled he was considering retirement.
---