With Lautenberg exit, what are GOP chances to gain Senate seat?
Half a dozen potential candidates from both parties are eyeing the Senate seat in New Jersey, being vacated after 2014 by Democratic Sen. Frank Lautenberg. It'll be uphill for the GOP nominee.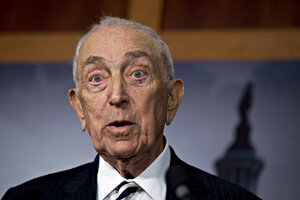 J. Scott Applewhite/AP/File
No sooner had Sen. Frank Lautenberg (D) of New Jersey announced his retirement from the US Senate, telling constituents and reporters late Thursday that he would not run for reelection in 2014, than the political vultures began circling. Already half a dozen potential candidates from both sides of the aisle have expressed interest in running for the octogenarian senator's seat next year.
At 89, Senator Lautenberg, who formally announces his retirement Friday in Paterson, N.J., is the oldest member of the Senate and the last World War II veteran in the chamber. His seat is one of 21 around the country that Democrats are defending next year. With 53 seats, Democrats currently maintain a narrow margin in the Senate, but the open New Jersey seat could help throw the chamber to the Republicans.
Do Republicans stand any chance of picking up the defiantly liberal senator's seat in the heavily democratic Garden State?
"It's going to be a tough road for Republicans," says Brigid Harrison," a political scientist at Montclair State University in Montclair, N.J. "We can't ignore decades' worth of data that indicate that Democrats tend to control the federal process in New Jersey."
Indeed, Garden State voters are among the most left-leaning in the country: They went for President Obama by a margin of nearly 18 percentage points in November.
---