Why it's John McCain, maverick, stumping for Gomez in Massachusetts
In the Massachusetts Senate race, underdog Gabriel Gomez enlisted the help Monday of GOP maverick-in-chief John McCain. There's a reason he called on McCain and not, say, Newt Gingrich.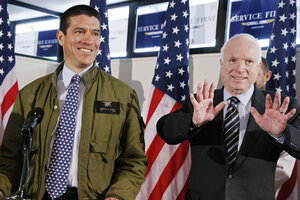 Michael Dwyer/AP
At a campaign rally for Republican Senate candidate Gabriel Gomez Monday morning, Sen. John McCain didn't mince his words.
"Let's have a little straight talk: This is a tough fight," he told the crowd gathered at the Veterans of Foreign Wars Post in the Boston neighborhood of Dorchester. "We are the underdog."
In a state where Democrats outnumber Republicans 3 to 1 and Mr. Gomez's opponent – 18-term Congressman Ed Markey – leads comfortably in early polls, that may be an understatement. Then again, Senator McCain is no stranger to tough campaigns, or to the kind of party-straddling political identity it takes to woo independents in a deep blue state like Massachusetts.
So it's no accident that it was McCain appearing with Gomez rather than, say, Newt Gingrich, who announced last week that his new political action committee would give $5,000 to the young Republican's campaign – while also cautioning the military-veteran-turned-investment banker to steer clear of the GOP establishment in Washington.
---