Mass. Senate race: This time, outside money is funding negative ad blitz
In 2012, Elizabeth Warren and Scott Brown swore off negative ads paid for by groups outside Massachusetts. But in the Gomez-Markey Senate battle, the money is pouring in.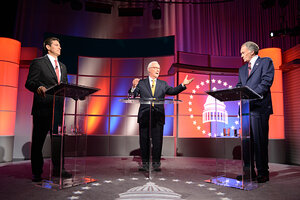 Meredith Nierman/WGBH/AP
During the fiercely competitive 2012 Senate race in Massachusetts, the two candidates made an unusual promise: neither would allow outside groups to fund attack ads on their behalf. If either Democrat Elizabeth Warren or Republican Scott Brown broke this so-called "People's Pledge," they agreed they would pay half the cost of the ad in question to a charity of their opponent's choice.
"We're saying that we want to be able to run our own campaigns," Ms. Warren, now senator, told Boston radio station WBUR at the time.
Neither side backed down. When two outside groups ran ads on Mr. Brown's behalf several months before the election, he dutifully cut checks to Warren's charities. After that, the outside ad spending dried up.
But in this year's special election to fill the state's other Senate seat – vacated by John Kerry – things have been markedly different. When Rep. Edward Markey, a Democrat, asked Republican Gabriel Gomez to take the same pledge in early May, Mr. Gomez refused, saying his opponent could afford to make that promise only because he already had a sizable campaign war chest built up over his nearly four decades in Congress.
"It's an open seat but [Gomez] knew he was essentially running against an incumbent," says Shannon Jenkins, a political scientist at the University of Massachusetts in Dartmouth. "Markey has a huge network of donors, so Gomez needed all the help he could get."
But now it seems that strategy may have backfired. Since the general election campaign began, outside groups have spent far more on Markey's campaign than Gomez's. According to the Center for Responsive Politics, which tracks campaign spending, "super political-action committees" and other groups have paid out about $2 million in support of Markey's campaign and another $2.5 million-plus against Gomez since the start of the election cycle.
---