Collapse of the omnibus spending bill: rise of the 'tea party Congress'?
(Read article summary)
Some see ideals of tea party movement at play in Senate, after a huge spending bill loaded with earmarks is scuttled after GOP lawmakers thought twice about it.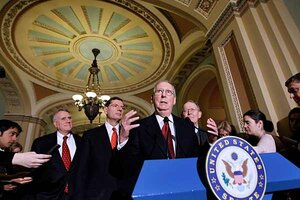 AP
On the anniversary of the actual Boston tea party some 237 years ago – when pesky colonists dressed up as Indians and threw the King's tea into Boston Harbor – the modern invocation of that revolutionary spirit tossed another expensive package overboard Thursday: a $1.1 trillion omnibus spending bill.
After leading a Republican charge into the House in the Nov. 2 midterm elections, the anti-debt, anti-federalist tea party movement notched its first major legislative victory Thursday by standing up to big-spending Democrats and Republicans and forcing Republican leadership to revoke its support of a bill laden with $8.3 billion worth of legislative earmarks – lawmakers' pet projects known as pork-barrel spending.
Among other spending priorities, the bill included a total of $1 billion to kickstart the first phase of the federal health-care reform law passed in April, meaning that its defeat likely lays the groundwork for Republicans to follow through on their promise to gut funding for the landmark legislation – per the tea party's wishes, by the way.
The failure of the omnibus bill "is a reminder for Democrats that their 'historic' legislation may be short-lived," writes Washington Post conservative commentator Jennifer Rubin.
Sen. Harry Reid, who had to shelve the bill when Sen. Minority Leader Mitch McConnell of Kentucky, under grassroots pressure, swayed nine critical Republican lawmakers to resist it, complained that its failure indicated that Republican leadership has become "a wholly-owned subsidiary of the tea party."
---