With Rice in Baghdad, U.S. pushes Iraq to clear more 'benchmarks'
The Secretary of State paid a surprise visit Tuesday amid signs that political reconciliation is gaining some traction in Iraq.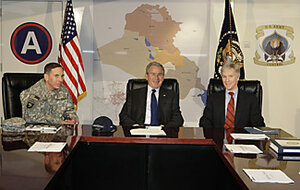 In a surprise visit to Baghdad Tuesday, Secretary of State Condoleezza Rice praised Iraq's moves toward national reconciliation as "quite remarkable" and said political progress there is proof that last year's "surge" of 30,000 additional US troops has been a success.
Seeking to build on Saturday's passage by the Iraqi Parliament of a key measure easing sanctions against former Baathists, Secretary Rice said Iraq must move on to other legislation "for healing the wounds of the past."
Rice's words reflect rising hopes in the Bush administration that passage of the first in a set of long-stalled measures – legislation known in the US as "benchmarks" for political progress – will act as a break in a logjam that has held up Iraqi national reconciliation.
At a press conference with Iraqi Foreign Minister Hoshyar Zebari, Rice acknowledged that political progress "has not always moved as fast as some of us sitting in Washington would like," but she added it is now time to "focus on what needs to be done, but also on how much has been done."
---