Better U.S. image abroad: how to attain it?
Presidential candidates cite intent to improve US stature, but retooling policies is complicated.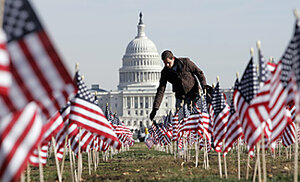 Susan Walsh/AP/FILE
Hillary Rodham Clinton would send prominent emissaries to world capitals the day after being elected president. John McCain would close the Guantánamo detention facility and renounce the use of torture. Barack Obama would speak to all foreign leaders, even America's worst enemies.
With global views of the United States seemingly stuck at historic lows, improving America's image abroad has emerged as a prominent issue of the 2008 presidential campaign. In debates and speeches, candidates acknowledge to varying degrees that everything from the prospects for diplomatic initiatives to America's economic well-being in the global economy hinges in part on how the world views the US.
And they are offering ideas, like those cited above, for how the image slide can be reversed.
But changing America's world image will take more than campaign rhetoric, experts say, especially in the post-9/11 era. Although they note that much of the blame for a deteriorated image is placed at the feet of President Bush, they say it won't work for the next president to seek a return to where the US was in 2000. Rather, they say, the next US leader should try to discern the kind of leadership the world is craving for the 21st century.
---