Bush trip to a bastion of support - Africa
His week-long visit will focus on humanitarian improvements.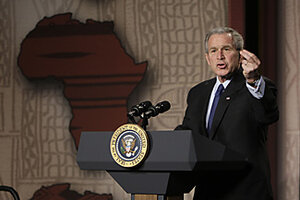 Pablo Martinez Monsivais/AP
When President Bush visits Liberia as part of a week-long trip to Africa, which was set to begin Friday, he just may hear a popular song whose refrain includes these words: "Thank God for George Bush!"
The Liberian ditty from 2003 reflects appreciation for US intervention in the country's political strife. But in a broader sense, it represents how much of sub-Saharan Africa stands out as a bastion of goodwill toward the United States – and Mr. Bush – at a time of high international opprobrium for the US.
The reason for the African difference is simple. Against all expectations for what a Texas governor who dismissed Africa's national-security importance would do as president, Bush has elevated Africa's ranking on the presidential priority list, taking two policy-redefining steps that are likely to carry over into the next US administration:
•Bush raised Africa's place on America's global map of national security by creating AFRICOM, the US Africa Command. It will oversee American military operations and relations on the continent and elevate Africa's role in the battle with international terrorism.
---