Castro's exit may spur U.S. policy rethink
US-Cuba relations are unlikely to thaw anytime soon, but change may be only a matter of time.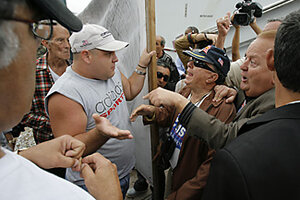 Hans Deryk/Reuters
In the short run, Fidel Castro's apparent retreat from power is unlikely to have much effect on the long-frozen relationship between Cuba and its Yankee neighbor to the north. That is something on which a wide range of US officials and experts agree.
But the long run is another matter. Generational political change in Cuba is inevitable and Mr. Castro's slow fade, say some, might serve as a signal to Washington to begin thinking harder about what might happen when a Castro no longer controls Cuba's fate.
"Now is the time for the US to decide ... if we want to devise our own Plan B for Cuba," says Anya Landau French, an expert on Cuban affairs and senior fellow at the Lexington Institute.
After all, a long line of US presidents have been bedeviled by the icon of the Latin revolutionary left.
In the past, Central Intelligence Agency assasination plots against Castro included such bizarre plans as the planting of an exploding seashell in the area of the ocean where Cuba's leader regularly dived.
The Helms-Burton Act of 1996, which strengthened and prolonged the US economic embargo against Cuba, prohibits Washington from negotiating with any Cuban government that include Fidel or Raul Castro.
Some US-based analysts label the change in power a "phony" transition and argue that the US should keep existing policies in place. Raul Castro, who is taking the reins from his brother, indeed simply may be a younger, less dynamic version of Fidel.
---