With Syria 'reactor' video, U.S. sends a warning
It lets potential nuclear proliferators Iran and North Korea know it's watching.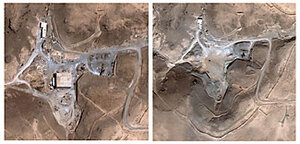 US intelligence officials have a message for potential nuclear proliferators: We're watching you, and we see more than you think.
That's the conclusion some experts draw from the US government's unusual April 24 release of evidence that Syria may have been building a nuclear reactor with North Korean assistance.
Israeli warplanes bombed the Syrian site on Sept. 6, 2007. This week, a US delegation is in North Korea pressing the Pyongyang regime for a full accounting of all its nuclear activities, including aid for Syria or any other country.
"This is very striking data to make public. It's clearly intended as a broader message to both the Syrian and North Korean governments," says Anthony Cordesman, a senior military analyst at the Center for Strategic and International Studies in Washington.
It is also possible that the US is sending a warning to Iran, says Mr. Cordesman. If Syria was developing a nuclear-weapons program, it would need fissile fuel for the reactor, a means of processing spent fuel, and design help, as well as the reactor itself.
"There really seem to be only two countries Syria could turn to" for such items, he says. "While everybody is focused on North Korea, Iran is obviously the other."
---