End near for U.S.-E.U. chicken flap?
Lifting a European ban could help pave the way to resolving other recent trade disputes.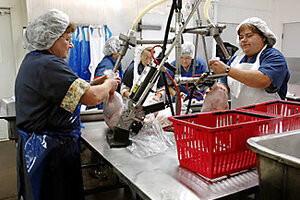 Melissa Carlo/Winona Daily News/AP/file
After years of sniping over cosmetics, clementines, and biofuel, an unlikely ambassador has emerged in the transatlantic trade wars between the United States and Europe: the barrel-chested American chicken.
A new European effort to lift an 11-year-old European Union ban on US poultry may become the first major victory of the Transatlantic Economic Council (TEC), which was created last year to put political pressure on grudge-holding bureaucrats on both sides of the pond. Loosening restrictions on the lowly clucker, experts say, could help ease a number of recent trade flaps, which overall could result in as much as 3.5 percent GDP growth for both blocs, according to the Organisation for Economic Co-operation and Development in Paris. On Wednesday, the European Commission is expected to hear a proposal by its health chief to open Europe back up to American chicken farmers.
But from the massive poultry farms of Georgia to the charcuteries of France, the chicken-ban issue is not just about agricultural protectionism in Europe, but also about culinary animosity between the Yanks and especially the French. It pits plumped-up US "factory chicken" against the subsidized range-feeding practices that go into growing the arguably skinnier, and arguably tastier, European bird.
---