Will the U.S. open an office in Iran?
Secretary Rice has floated the idea of an interests-section office – a step down from an embassy.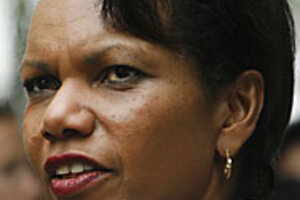 Claro Cortes IV/Reuters
With President Bush trying to burnish his diplomatic credentials on a series of fronts, the State Department is pushing the envelope by suggesting it may be time to open a permanent American presence in – of all places – Tehran.
Secretary of State Condoleezza Rice has recently floated the idea of opening a US interests-section office in the capital of Iran – the last member of Mr. Bush's 2002 "axis of evil." An interests-section office, which is basically an embassy without an ambassador, allows for a US presence in a country with which the United States has no formal diplomatic relations.
The US maintains an interests section in Cuba – in a seafront high-rise in Havana. It is larger than the diplomatic missions of many countries with full diplomatic relations with the Cuban regime.
The US has had no permanent presence in Tehran since the storming of the American embassy there and the taking of US diplomats as hostages during the 1979 Iranian revolution. The idea of now establishing a US office reflects other shifts in Bush's second term from confrontation and isolation of enemies to engagement and multilateralism. What the initiative is not, some experts say, is any indication of a shift by the administration to begin talks with the regime in Tehran. Indeed, with new reporting out this week about clandestine White House efforts to undermine Iran's rulers, some observers see the idea of a US presence in Tehran more as a ruse than as a serious proposal.
---