At U.N., a bolder approach to terrorism
The secretary-general held a symposium Tuesday on the victims of terrorism – the first conference on the topic held by the UN.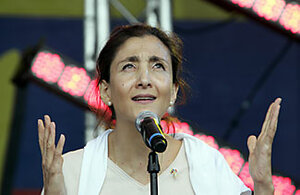 Francois Mori/AP/file
The United Nations secretary-general, Ban Ki Moon, sits at the podium flanked by victims of terrorist acts committed around the world, a look of Cheshire-cat satisfaction on his face.
Terrorism is not an easy topic to raise at the UN: The political, religious, and ideological dimensions of the issue always seem to get in the way of a full-on discussion. The body of 192 member-states has tried for years but failed to agree on a definition of terrorism, and that has impeded the approval of a global convention on international terrorism.
And yet there sat Mr. Ban on Tuesday, using the back door of a conference of his creating about the victims of terrorism – who could disagree with that topic? – as a way to get at the overarching issue of terrorism.
"Your stories of how terrorism has affected your lives are our strongest argument why it can never be justified," Ban said to the 18 terror victims he had assembled, including the former Colombian presidential candidate Ingrid Betancourt, who was freed earlier this year after being held hostage more than six years by leftist guerrillas. "By giving a human face to the painful consequences of terrorism, you help build a global culture against it."
Ban's one-day symposium, the first conference on the topic held by the UN, reflects the determination of the results-oriented chief of the unwieldy institution to address the top issues of the day, as delicate as they may be. When Ban rose to the secretary-general's office in January 2007, many UN hands wondered how the longtime South Korean diplomat's signature efficiency and impatience with no-can-dos would fare in a job prizing the ability to walk on 192 eggshells.
---