Iran: Will talks happen under Obama?
A period of reestablishing relations with Iran's partners seems likely. Also expect contacts with lower-tier Iranian officials.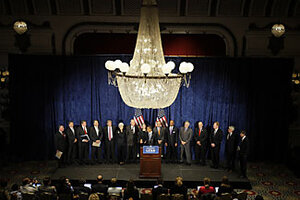 Alex Brandon/AP/file
During the presidential campaign, Barack Obama made a "talk to our enemies" position a highlight of his diplomatic vision, using that stance in particular to underscore how American foreign policy under him would change toward Iran.
But neither close Obama advisers nor Iran experts are expecting a rush to dialogue with Tehran come Jan. 20, for a number of tactical and event-driven reasons:
•The economic crisis will consume much of the new president's attention and is likely to put off major diplomatic initiatives.
•The sinking price of oil is seen as having clipped Iran's wings, raised domestic woes for Tehran, and made negotiations somewhat less urgent.
•And, most important, Iran holds presidential elections in June, leaving the United States wary of doing anything beforehand that might be used by Iran's extremist and anti-Western forces – in particular President Mahmoud Ahmadinejad – to electoral advantage.
None of this means Iran can be expected to have slowed its nuclear program and its pursuit of uranium-enrichment technology, Iran experts say. Indeed, the United Nations nuclear watchdog, the International Atomic Energy Agency, said Wednesday in its latest report on Iran that the country continues to build up its store of low-enriched uranium – it now has 630 kilograms (1,385 pounds) stockpiled – which, with the right know-how, could be the basis for conversion to the highly enriched uranium that would be needed for a bomb.
---