Pakistan moves up US priority list
The terror attacks in India next door have emphasized the instability in the region.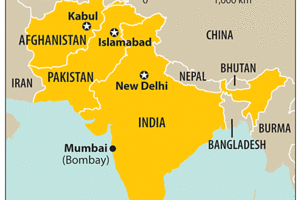 Rich Clabaugh/STAFF
Much as the 9/11 terror attacks quickly focused the Bush administration on its relations with Islamabad, last week's terrorist assault on Mumbai (formerly Bombay) only elevates the central preoccupation that Pakistan poses for President-elect Obama.
Already, the deteriorating stability of the world's only Muslim-majority nuclear power has figured in virtually every aspect of the incoming administration's national-security portfolio: from the war in Afghanistan, which is on Pakistan's western flank, to relations with nuclear rival India. If anything, the Mumbai attacks and the growing evidence of involvement by Pakistan-based militants will raise the urgency of developing a new approach to the Pakistan problem.
"If there's any silver lining out of this, it may be that Pakistan moves to the top of the next administration's urgent list," says Daniel Markey, a former State Department expert on South Asia now at the Council on Foreign Relations in Washington. Only perhaps after Iraq, Pakistan "outweighs the other challenges [because it] poses the most significant threat of global terrorism," he adds.
---