Economy forces Obama to rein in foreign-aid goals
He wants to double aid by the end of his term to help improve America's image abroad, but that no longer looks possible.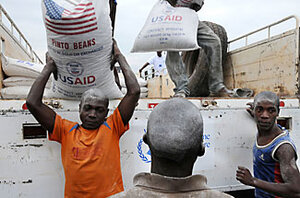 teun voeten/sipa press/newscom
The Obama administration is hinting that the economic downturn means the president is unlikely to reach his goal of doubling foreign aid by the end of his four-year term.
The retreat from the ambitious pledge is raising concerns both about the perception of the United States abroad as well as the potential adverse effect on development and global health. The US has increased funding in recent years for international campaigns targeting HIV/AIDS, malaria, and other diseases – part of a broader increase in global health spending that has brought impressive results, particularly in some African countries. The worry is that the upward trend may now be reversed.
Some development experts note that the president's 2010 budget includes an almost 10 percent jump in foreign aid – an increase they consider positive given the economic circumstances. Yet with a significantly worse economic and budgetary picture than anticipated, the White House Office of Management and Budget speaks of "extending out" the goal of doubling foreign aid – presumably into what officials envision as a second term for the president.
Though the development community reacted "pretty positively," says Steve Radelet of the Center for Global Development in Washington, "there's still a wait-and-see attitude."
The idea of doubling foreign aid to $50 billion a year by 2012 was a key element of President Obama's campaign pledge both to revamp the way America works with the world – particularly with developing countries – and to improve America's image abroad.
---