Reversing Bush policy, US seeks seat on UN Human Rights council
The US will try to reform the council – some of whose members shield human rights violators – from within, officials said.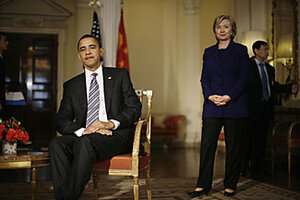 Jason Reed/Reuters
President Obama is taking another step down the road of engaging America's adversaries with the decision to seek a seat on the United Nations Human Rights Council, a group President Bush had shunned.
Secretary of State Hillary Rodham Clinton announced in a statement Tuesday the reversal of Bush's policy of remaining outside the council as a way of protesting its makeup and work. "With others, we will engage in the work of improving the UN human rights system," Secretary Clinton said, with the goal of "advancing the vision of the UN declaration on Human Rights."
The administration's decision set off the latest installment of a debate in foreign-policy circles over whether the world's most egregious rights abusers are best confronted from within or outside the international human rights tent embodied by the council.
The 47-country council is tasked with defending international rights, but even some of its members concede the Geneva-based body spends too much time criticizing Israel and focusing on issues such as Islamophobia in Western countries. The council's predecessor, the UN Human Rights Commission, was branded as a club for dictators and scuttled in 2006. The current council is dominated by countries from Africa and Asia that have shielded human rights violators such as Sudan and Zimbabwe from scrutiny.
---