In Obama's speech, a new approach to Middle East: candor
The president didn't announce any policy changes but sought to challenge his listeners' preconceptions about the Israeli-Palestinian conflict.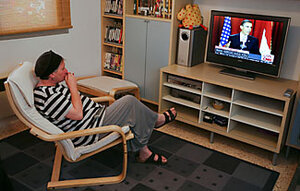 Dan Balilty/AP
Did President Obama in his Cairo speech signal a new toughness towards the Arab-Israeli peace process?
Past presidents have opposed Israeli settlements in the West Bank. In Cairo, Mr. Obama said plainly that the US will not accept the legitimacy of continued settlement activity.
Past presidents have supported the two-state solution, with Israel and a Palestinian nation living side by side. In Cairo, Obama insisted that each side needs to recognize the other's right to exist.
With these and other points, Obama was not so much making new policy as forcefully explaining the implications of policies that exist, says Frederick Barton, codirector of the Post-Conflict Reconstruction Project at the Center for Strategic and International Studies.
"His speech had this element of candor that his immediate audience [in the Middle East] is not familiar with," says Mr. Barton.
Obama's 55-minute address was heavily promoted by the White House, both in the US and the Middle East. Given its importance, it is almost certain that Obama and his speechwriters considered carefully every phrase, nuance, and emphasis.
---