Clinton stands firm on Israeli settlements
Official agreements are 'very clear' about stopping the growth of West Bank Jewish outposts – and Obama is not bound to unwritten pacts from the past, she says.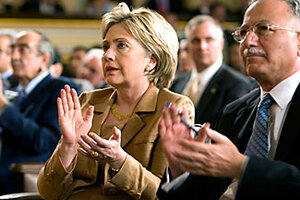 Larry Downing/Reuters
Secretary of State Hillary Rodham Clinton stated Sunday that the Obama administration would not be bound by informal agreements made during the Bush era that gave Israelis more latitude on Jewish settlements in the West Bank. "Well, that was an understanding that was entered into, so far as we are told, orally," she said on ABC's "This Week." "That was never made a part of the official record of the negotiations as it was passed on to our administration."The issue of Israeli settlements has been given fresh momentum recently by Mr. Obama's speech in Cairo, as well as comments by Secretary Clinton that Obama "wants to see a stop to settlements: not some settlements, not outposts, not natural-growth exceptions."Israeli officials have countered that the Bush administration had unofficial agreements with Israel to allow for certain types of growth. In rejecting any such agreements, Clinton reiterated the administration's stance that settlements in the West Bank must be prevented from growing further.
"The fact is that the road map, which was agreed to officially, adopted by the Israeli government, said something very clear about settlements," she said, referring to the 2003 road map for peace, which freezes all settlement activity."So I think that what the president is doing is saying, 'Look, everybody should comply with the obligations you've already committed to,'" she added.
This would be a departure from past US policy, which traditionally gave Israel a fair amount of leeway regarding West Bank settlements, according to a column in Foreign Policy. President Obama's current set of advisers sees the settlements issue as perhaps the most significant stumbling block to any future peace deal, the article adds.
---