Whither the Kang Nam, North Korea's suspect cargo ship?
The aging craft, heading toward the Strait of Malacca, is an unlikely player in what is fast becoming an international drama.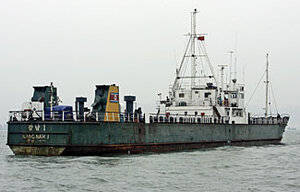 Vincent Yu, File/AP
The Kang Nam is an aging, rusty cargo ship that has passed through numerous owners. Now flying the flag of North Korea and chugging slowly through East Asian waters toward the Strait of Malacca, it is an unlikely possible flash point for international tensions.
But that's exactly what it is. The Kang Nam is the first North Korean vessel monitored under new UN Security Council sanctions aimed at punishing Pyongyang for its nuclear test last month.
What the US Navy does to the Kang Nam – or what it does not do – may serve as an overall indication of how President Obama intends to respond to North Korea's recent nuclear actions.
"North Korea has a path toward rejoining the international community, and we hope they take that path," said Mr. Obama on Monday in a prerecorded interview on CBS. "What we're not going to do is to reward belligerence and provocation in the way that's been done in the past."
Tensions have been running high on the Korean peninsula since the May 2 underground nuclear explosion. Pyongyang has said it will consider any attempt to intercept the Kang Nam to be an act of war.
---